Please note that some levels' names are not the same.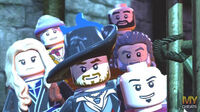 Chapter 1: Singapore
Summary: Barbossa and Elizabeth go to the bathhouse of Singapore crime lord and pirate Sao Feng to arrange a deal to get the charts that lead to Davy Jones' locker, and a ship to take them there. But the deal goes awry.
Characters: Hector Barbossa, Elizabeth Swann, Will Turner
Boss: Sao Feng
Gameplay
Part 1
(Video copyright Pryingtuna85649 Game copyright Lego and TT games)
Part 2
(Video copyright Pryingtuna85649 Game copyright Lego and TT games)
Part 3
(Video copyright Pryingtuna85649 Game copyright Lego and TT games)