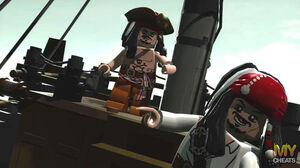 X-box 360 - Chapter 2: Davy Jones Loker
Summary: Captain Jack Sparrow must escape Davy Jones Locker by fixing the Black Pearl, with the help of the other imaginative Jack Sparrows.
Playable characters in Story Mode:
Boss:
None
Playstation - Chapter 2: Betrayals
Summary: Sao Feng captures the Black pearl and turns it into Cutler Beckett who speaks to Jack and they begin to arrange a deal. Meanwhile, the crew of the Black Pearl managed to bring Sao Feng to their side after Beckett goes back on a deal he made with him about giving him the Pearl. With Sao's help, they fight to escape from Beckett's men.
Characters:
Boss:
Gameplay
Part 1
(Video copyright Pryingtuna85649 Game copyright Lego and TT games)
Part 2
(Video copyright Pryingtuna85649 Game copyright Lego and TT games)
Part 3
(Video copyright Pryingtuna85649 Game copyright Lego and TT games)